Anorthosis were founded January 30th 1911 in Famagusta, a city north of Cyprus. Due to the Turkish invasion of Cyprus, they had to move to Larnaca, another city in Cyprus. In this city they built Antonis Papadopoulos Stadium, with a capacity of 13 500.
Their main group is named MAXHTEC, which means fighters, most likely a name used as a symbol of "fighting back their old city".
For this match against Ermis, who also play in Larnaca, MAXHTEC had 2 tifos and 2 pyro shows as celebration of the 100th anniversary.
Video of the match:
http://www.youtube.com/watch?v=JMY49vHtoe8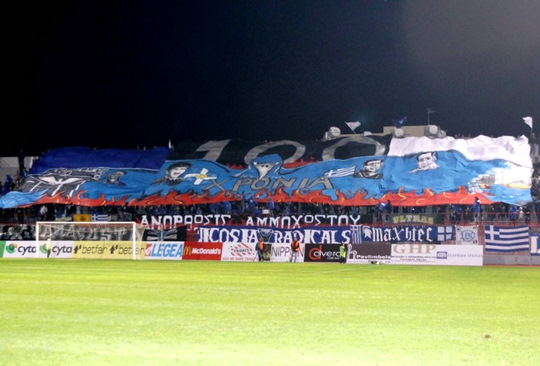 The banner says "100 years", with images of some of their legends and their city under the phoenix, their emblem. Then there was a pyro show with 100 flares, symbolizing the 100 years of their club.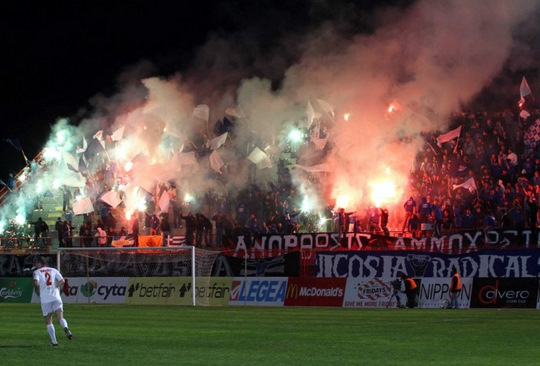 2nd half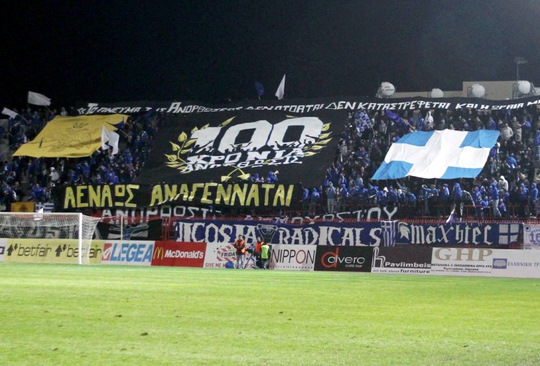 Unfortunately the match was interrupted. Supporters and police forces clashed inside and outside the football field. Ten police cars were broken and one police bus was burned which use to carry swat to the football match. After the riots, police announced that 14 cops were injured. "This is the first time that fans of a football team humiliated the police" that was the word of the official spokesman.
You can see photos & video of riots
http://www.youtube.com/watch?v=LCJXvzlwQvo
http://www.youtube.com/watch?v=ExduVtYzSXM